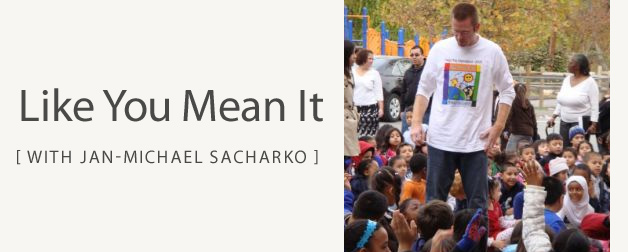 Introducing the like-you-mean-it (LYMI) series about what it's like to live, and leap, with intention. Will you share your story?
This one's by homeless advocate, Jan-Michael Sacharko with A-SPAN.
I'm calling this: "Why I Did What I Did—Finding a Mentor Who Lives Like He Means It." Why I Do What I Do Now is another story for another post.
I've spent ten years working for organizations that aim to end homelessness. Hours are long, pay hasn't always been great, and it's more than once interfered with relationships.
Naturally, I get asked all the time: "Why do you do what you do?" It's tough to answer because for a long time it wasn't about me.
Over a decade ago, a man I met inspired me to live for others.
I began volunteering occasionally in 1998 at a program that housed formerly homeless immigrant and refugee families. One day after working in the hot sun for hours landscaping, I asked the director, Bill Murphy, why he did what he did. His story is #likeyoumeanit at its core.
While he was a college senior at Holy Cross in 1973, he was bombarded with the message that to be a good person, you had to live as Jesus did, and be a "man for others." So he took it literally and read the New Testament closely, highlighting & memorizing what Jesus is reported to have said. He got to know these passages, trying to understand what they meant.
Why, he wondered, when someone asks you to go one mile, would you go two? Why give your cloak as well when all they asked for was your coat?
Three months before graduation, Bill was walking down the street when he heard a voice call out, "Hey man, got a quarter?"
Bill saw the image we all think of when the term "homeless" is used. The man on the ground was middle-aged, had a scraggly beard and hair, was wearing filthy clothes, had scars on his face, and his leg was bent at an odd angle. The crutch next to him indicated a disability. He was sitting next to and among trashcans.
Bill felt moved to give and thinking of the passage, decided to give the man a dollar instead of a quarter. The man said thank you as Bill started to walk off, but then said much more loudly:
No, really, thank you...got time to talk?
Bill cleared a space next to this man and sat down.
For the next three hours, this man told Bill his story:  he had a job, life, wife, but was in a car accident and was crippled after going through the windshield. Angry at the world for his disability, he drank until his family kicked him out. That was eight years before.
During their conversation, the man continued to panhandle. Bill watched the reactions:  several people ignored him, some stepped over, a few yelled things about getting a job. One man stopped, looked him in the eye, then spat at his feet.
Bill felt like he knew this man, seeing the world from his viewpoint, and that he too was spat at. When he got up, he felt his world was changing—and then it did.
The man said:
You've been really nice and I hate to bug you as you've been so nice, but if you know a place where I can take a shower, that would be great. Or a sandwich or a place with a bed. Really anything you can do.
Bill knew of a place that had all of those: his dorm room. So he took this man home.
There were several people who took issue with Bill moving a homeless person into his dorm room for a few days. The school required him to see a psychiatrist, then another.
The fourth psychiatrist said that Bill was a religious fanatic. Bill's parents were called to take him home. The school mailed his diploma.
Bill learned that even people who claim to want to right the wrongs in the world didn't mean it. He had the opportunity to help someone right then, and he was told not yet.
The injustice and hypocrisy jarred him. So, he took a bus to DC with nothing but the clothes he was wearing.
In his words, in order to "really help the homeless, [he] had to be homeless himself."
He knocked on doors until someone took him in. He ended up volunteering for that organization, CCNV, for the next seven years, meeting another volunteer who would become his wife. The two of them founded Mary House in 1981 to end homelessness in DC one family at a time.
By the time I met them, they had ten buildings, housing 42 families. Now it's 15 buildings that house nearly 60 families.
Their example caused me to volunteer nearly every weekend for the next two-and-a-half years, join AmeriCorps to serve them after I graduated, then serve another year, then stay four more years full-time and two part-time.
Their lives for the past forty years have been living #likeyoumeanit and simply leaping.
So many of us are lost and confused trying to find meaning—how could I not follow them and see where it took me?
Where can this story take you?